A short commemorative service was held in Rutherglen Church, where two plaques to Sir William Wallace were placed 2 years ago. Speakers on the day were Clare Haughey MSP, Lord Provost Ian McAllan, Gerard Killen MP and George Kempik of the Society.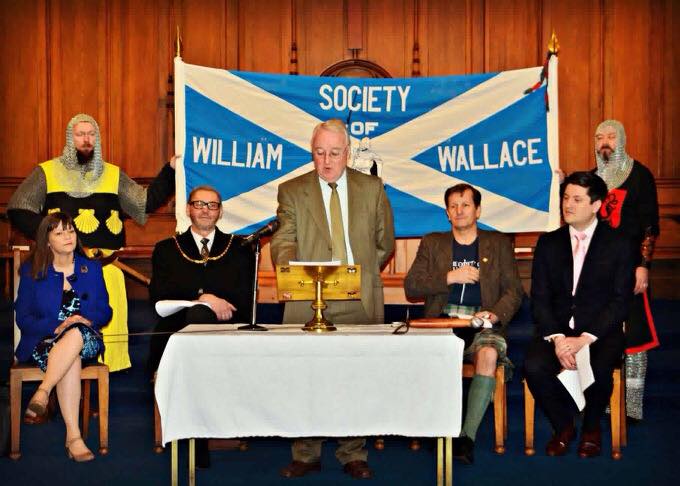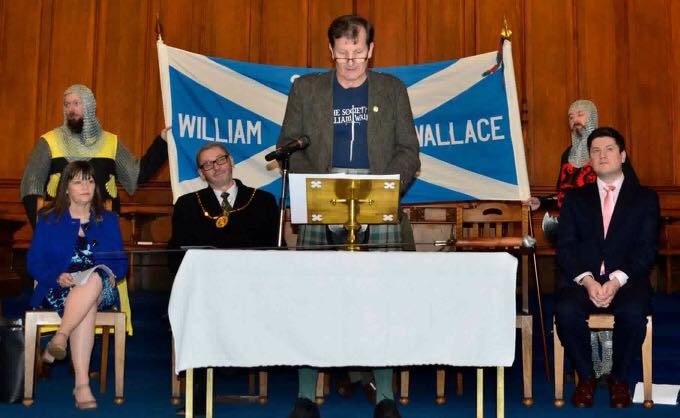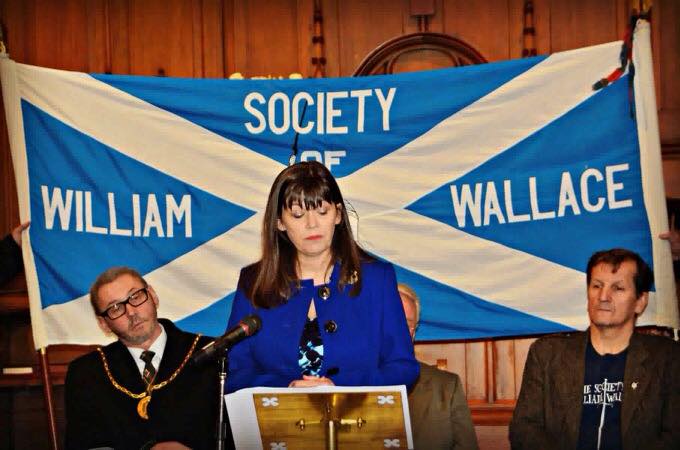 George's speech:

As I stand here, I think back to our unveiling event here two years ago.

It was only about 8 months previous, that I had heard about the opportunity to put a plaque up here, at what is widely recognised as the place, where the betrayal of William Wallace happened, before being captured over at Robroyston. From where he was taken to London, put through a sham trial, then hideously murdered, on the 23rd August 1305.

Wallace's connection with Rutherglen began eight years earlier, when in February 1297 he came here, to the medieval church that stood on this spot, to sign a peace treaty with the English. And I bet the percentage of people even in Rutherglen that know this connection, with possibly the greatest Scot that ever lived, will be low. Prior to my joining the society, I had never heard of, or visited the church, but I was very interested to find out more and proud, we were being allowed to make this happen.

There was a lot of work being done behind the scenes by our conveynor Gary Stewart and Gordon Aitken our society historical advisor. I became involved as the day came, when it was agreed the society could mount, what turned out to be two plaques, one inside and one outside, as near as was possible to the actual place the betrayal took place. As a joiner who has bored a few holes in walls, all over Scotland, let me tell you, I have never been so nervous, boring these holes, in your church.

We experienced a real feeling of welcome from the church but obviously had to follow certain procedures and rules to get to this stage. We felt everyone involved, believed the recognition of the association Wallace had with this church was long over due. Massive thanks to Hugh and CARTA, for everything they did to help us make this happen.

The 13th of February 2016 was chosen for the unveiling, 11.30am, to coincide with a Scottish themed Coffee morning in the church. As we gathered apprehensively, we had no idea what kind of support we were going to receive, any reservations soon disappeared, as we saw the pews fill and a real buzz of excitement filled the church. The proceedings started with Hugh delivering a very heartfelt welcome to all who had attended. Handing over to Gary, to deliver thanks and some of the background on why we were here. Our first invited guest of honour, James Kelly MSP said a few heartfelt words, then unveiled the saltire covering the brass plaque inside the church.

This was followed by the entrance of Clann An Drumma. On this day, a three piece made up of two on drums and a piper, what a sound they made in this fantastic venue, they raised the roof as did the applause from those gathered. Hugh introduced Margaret Ferrier MP, who delivered a speech worthy of any patriot, proud to be present at this magnificent occasion.

The proceedings then moved outside to where the slate plaque had been mounted on the parish church, facing the position of the old original church, now mostly taking the form of a later tower. The saltire covering the plaque was dancing as if it could not wait to be removed, Margaret said a few more stirring words to loud applause as she unveiled this long overdue marker to a disgraceful but historic event in Scottish history, important to all educators. Important to us all.

We moved back inside to bring proceedings to a conclusion, little did we know, we were about to experience something incredible. Most of us had heard our friends, George Thom and Donald Neill deliver Scots Wha Hae before, today in the church, it was as if, all of Scotland had entered their bodies giving them strength, clarity and power, power like I have never heard before from them. Hairs standing on the back of the neck moment all round. I personally have never been so proud or inspired. I feel when we all left the church, we were walking at least two inches taller.

So what was it all about. Why was this happening?

We as a society have been in existence for over 100 years. There have been a few changes in the society over that time, obviously members come and go, as do the committees and of course the conveyors. As things change, one thing predominates, that's the great Sir William Wallace, which if you consider how Scottish history has been neglected historically, here in Scotland, is a pretty amazing feat. History records even the smallest of actions if you are royalty or lorded, the feats of people like Wallace had to be recorded by story tellers like Blind Harry. But Wallace isn't just a hero here in Scotland, he is held high all around the world as an example of what one man can do against overwhelming odds, fighting tyranny, even confronting his own superiors, but leading from the front, to free his nation. A great example of what we should all aspire to be, obviously not expecting to meet the same end.

As I said, the society has changed over the 100+ years we have been in existence. One of our most recent and important changes, was the decision to seek and attain charity status. In doing so, we have endeavoured even more to promote Wallace, his involvement in the making of our nation and importantly to take his story to the kids in schools around Scotland. Although there are quite a few amazing monuments to Wallace all over Scotland we know there were places, like Rutherglen, that have needed our attention. These plaques are made all the more important, by the recent discovery that the lovely Wallace plaque that was over in the Mitchell Arcade, has been taken down, possibly not to be put up again. Let's hope that's not the case.

In the same year that we put these two plaques up, we also raised a magnificent monument behind the cathedral at Glasgow Necropolis, marking the place Wallace was victorious at the Battle of the Bell o the Brae, in 1297. And we also mounted a brass plaque on the wall near the church Davy Ross's, Walk For Wallace, culminated, in a memorial service 700 years after Wallace was murdered. 2016 was a good year for the society and you were all part of that.

I'm going to end by reciting a new poem by a gentleman called Paul Colvin, this has only been recited once before. I hope I do it justice.

The Betrayal and Death of William Wallace.

The pact was signed in Rutherglen's Kirk where a name would be revealed
Just another Scotsman's life betrayed, another Scot whose fate was sealed
He was captured at Robroyston by a Lord, Sir John Menteith
And the Guardian of all Scotland, no more her air he'd breathe.

In silence they dispatched the news, their riders swiftly raced
To alert King Edward Longshanks, that The Wallace was disgraced
For three long weeks, bound hands and feet, they paraded England's prize
Though anger raged within his heart, a sadness filled his eyes.

His trial, by a "foreign" court, was held at Westminster Hall
He would not bow down to England's crown nor to their cabal
And the pre-determined verdict claimed that a "traitor's" death he'd face
And at Smithfield's Haberdasher's Hall, the gallows took their place.

Chained naked to a wooden frame, he was dragged o'er cobbled stones
Pelted by what came to hand as their King took up his throne
They laid his brutal body bare, ravaged by their fun-filled day
And now he'd face his cruel death, not another word he'd say.

Hanged then dropped whilst still alive, the rope jerked his body tight
Then with joy they cut his manhood and burned them within his sight
His stomach slit then disembowelled, his entrails shown to the crowd
Then burned upon the brazier as their royalty had avowed.

The hangman held his knife aloft then opened up his chest,
And pulled out his warm, beating heart, a skill the hangman must possess
Then cut off his head and held it high for all the crowd to see
Then quartered up his body parts, all done by Royal decree.

His limbs were sent to Newcastle, to Berwick, Stirling, Perth,
The sentence for a Scottish knight for "their" treason on this earth
His head was spiked on Tower Bridge to embarrass Scotland's son
And to put the fear of Christ in Scots but that fear was all undone.

A barbaric death in barbaric times but it was a death held back for Scots
This butchery was the devil's work, another evil Royal plot
But tales of William Wallace spread and a martyr he became
And far beyond this island's realms Freedom claimed the Wallace name.

When a man stands up for his beliefs and stands up for what is right
No power can match the human faith, not even Royal might
Wallace lives in us today, in the heart of every Scot
But his Freedom is a right for all and not what we're being taught.

© Paul Colvin.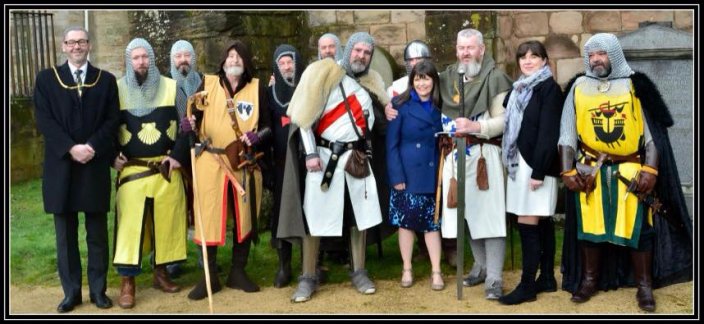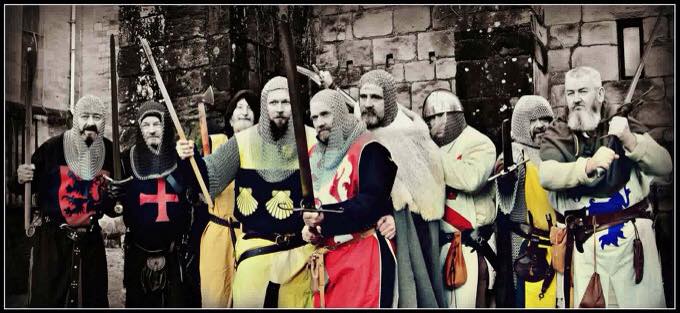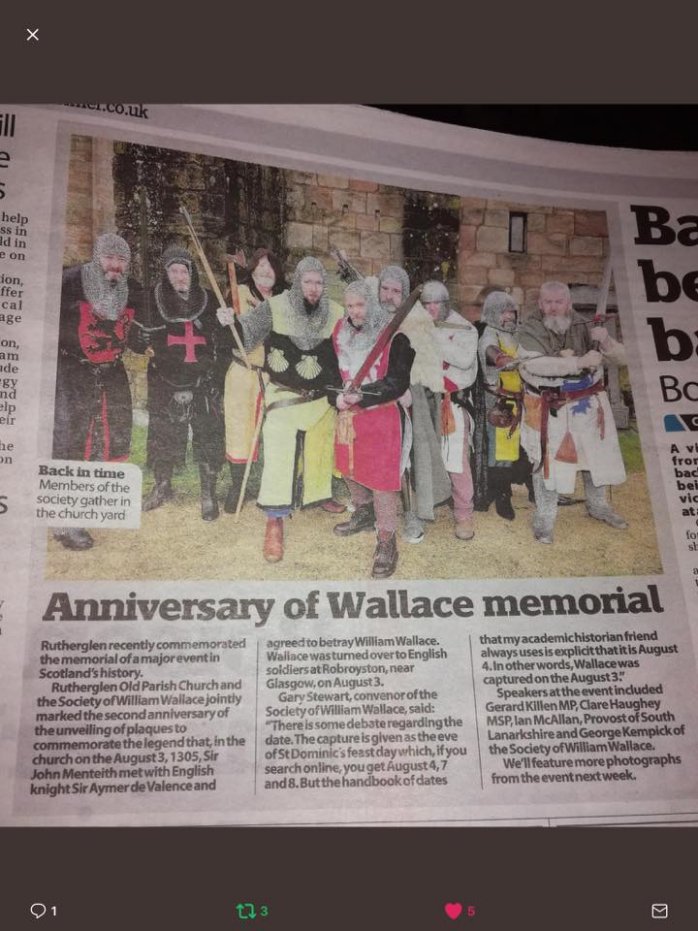 The Society of William Wallace is a Scottish Charitable Incorporated Organisation Registration number SC045959