1. 3rd of August 1305 : Sir William Wallace is captured at Robroyston near Glasgow. He is quickly taken to the most secure place in the area - the Earl of Menteith's stronghold of Dumbarton Castle.

2. 4th of August 1305 : Wallace is taken from the castle by boat across the River Clyde to a point directly opposite, known today as West Ferry. From there he was taken along an old Roman road to what is now Port Glasgow. There he was chained to an oak tree until being handed over to English troops for transportation to his sham trial for treason, by a foreign power with no such jurisdiction.

3. 23rd of August 1305 : Wallace is tried for "treason" at Westminster Hall in London. He is given a pre-determined verdict of guilty and is dragged through the streets to Smithfield for his judicial murder by being hung, drawn and quartered.

4. 1478 : The oak tree to which Wallace had been chained was legendary in the area. Even when oak trees were being felled all around it for the main roof beams during the building of Newark Castle in 1478 - some 173 years later - this tree was left standing.

5. 1768 : When he noticed the tree had started to decay with age, the 13th Earl of Glencairn, on whose land the tree then stood, had the tree bored and boiling pitch poured into the hollowed part. This caused root-like growth to descend from the upper branches which sprung new life into the oak.

6. 1950s : Canon Joseph Sweeney (the first parish priest of the Holy Family Church upon which grounds the tree had become assimilated) battled successfully with Port Glasgow Town Council to save the oak tree from being pulled down because of rot. In a bid to save it once again, a support of cement and heavy wire mesh infill was added to the ailing centuries-old tree.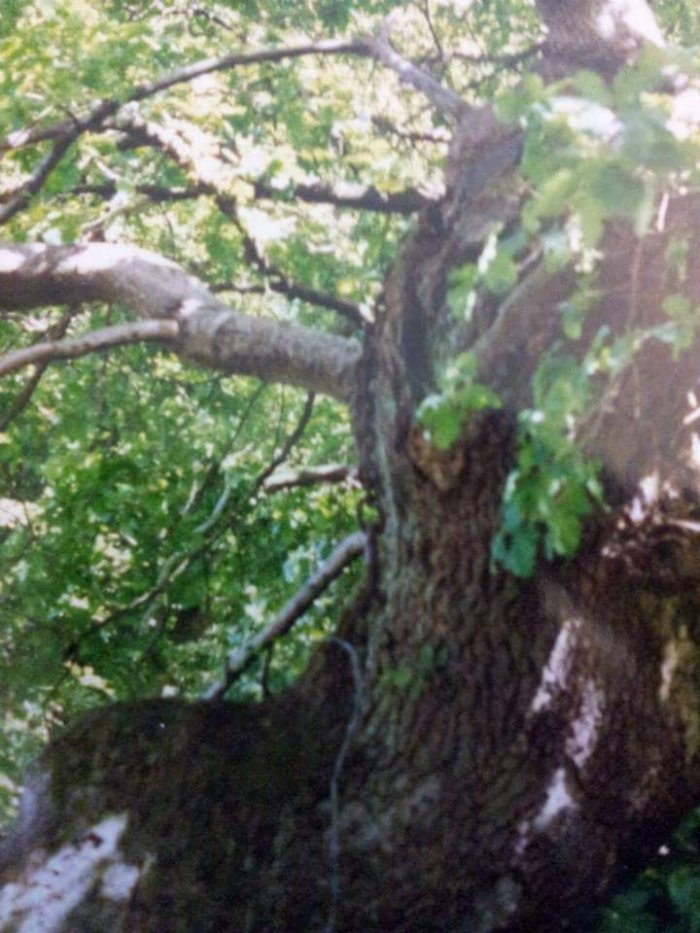 The Wallace Oak before it fell during a storm in 1992

7. 1959 : The building of the new Holy Family Roman Catholic Church was completed. Many a family was to have photographs taken beside the Wallace Oak at celebrations such as weddings, christenings and First Holy Communions - even some Holy Family Primary school football team line ups.

8. At some point down the centuries a chain – coloured red to symbolise Wallace's blood - was added to the tree, and when this rotted away another would replace it. Local oral history states that the last chain was supplied by the local Lithgow shipyard around the late 1800s.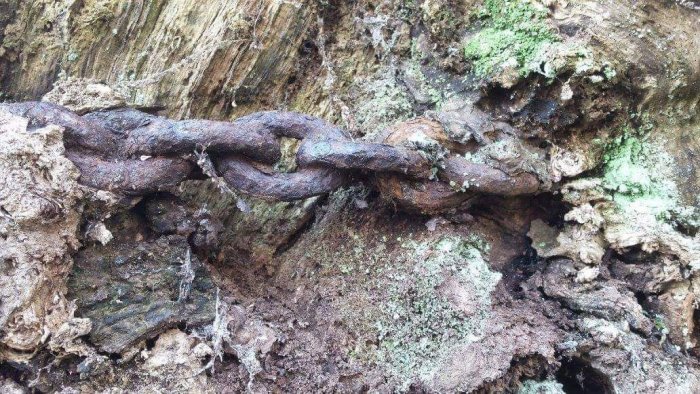 A section of the Wallace Oak still had an old chain enveloped in its bark

9. January 1962 : Greenock Telegraph issued a plea from local man J.B. Scrymgeour to once again save the ailing Wallace oak as it had started to split. Whatever action was taken, it again survived.

10. 1970's : The Wallace Bar that was built just along Parkhill Avenue from the church grounds, took its name from the famous Wallace Oak, and indeed had a depiction of the tree on its fascia. It was demolished in 2001.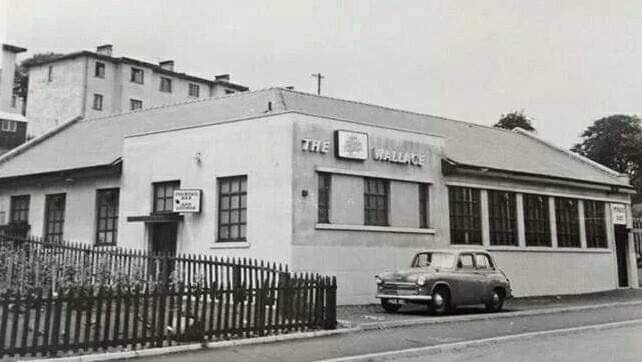 The Wallace Bar built just along the road from the church showing an Oak tree in its name

11. Monday 29th June 1992 : Sadly, the gnarled Wallace Oak finally fell to ground during a storm, leaving behind a mystery. Fr Joseph Quinn witnessed its demise. There was no thunderous crash - it went quietly with one long, creaking groan.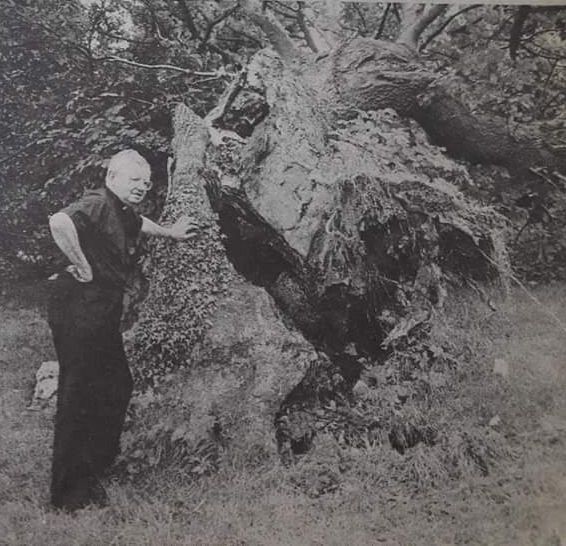 Father Quinn with the fallen Oak in 1992

12. 1992 : Fr Quinn sought help to remove the stricken Wallace Oak, and local businessman David Smith from Bouverie Motors came along with a tow truck and cleared the site. But before he did, parishioner Mr Joseph Delaney asked for a large branch and proceeded to carve one large and seven small Padre Pio statues. One still resides at the church to this day. He also planted some acorns collected from the site in his daughter's garden and they continue to grow there.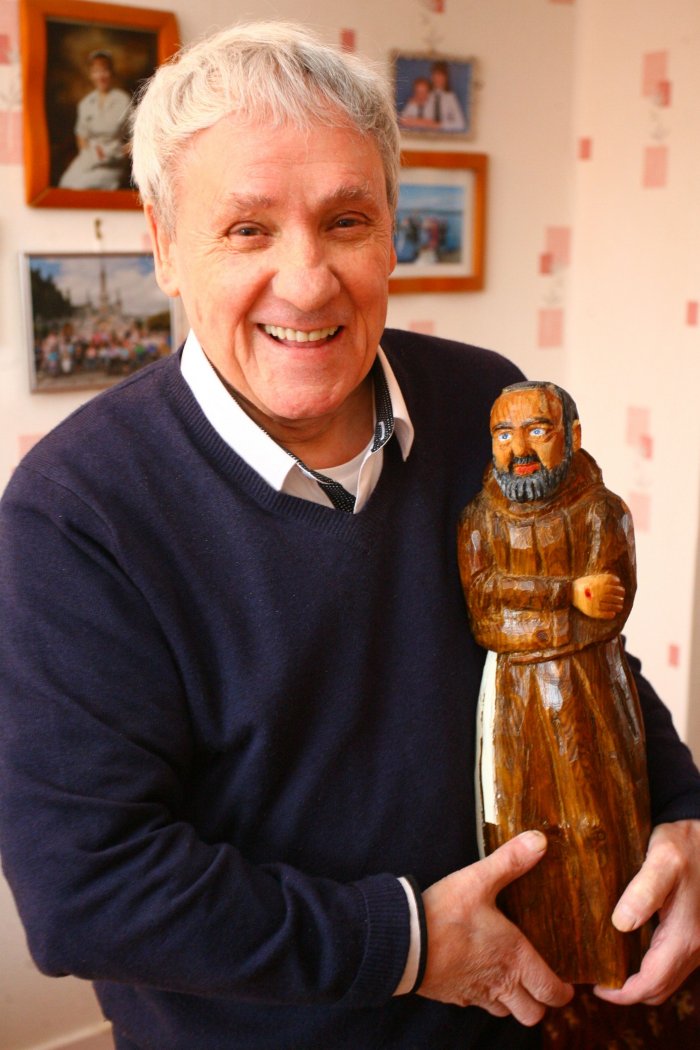 Local man Joseph Delaney who carved 8 Padre Pio likenesses from a branch he saved as the Wallace Oak was removed from the church

13. Mid 1990's : During research for his book "On the Trail of William Wallace", the late David R Ross (then convenor of the Society of William Wallace) visited the site to see the Wallace Oak, only to be told it had fallen some 18 months before his visit.

14. September 2013 : Friends Cha Halliday and the late Sean Donnelly, inspired by David's book, start a Facebook page, "In The Footsteps of William Wallace". They set out to find the remains of the Wallace Oak.

15. January 2014 : The first story of the Wallace Oak in almost 22 years appears in the Greenock Telegraph with an appeal for any information. Within days there are twenty five replies with helpful information, resulting in contact being made with both Joe Delaney and David Smith and a colour picture of the oak from local man John Scott.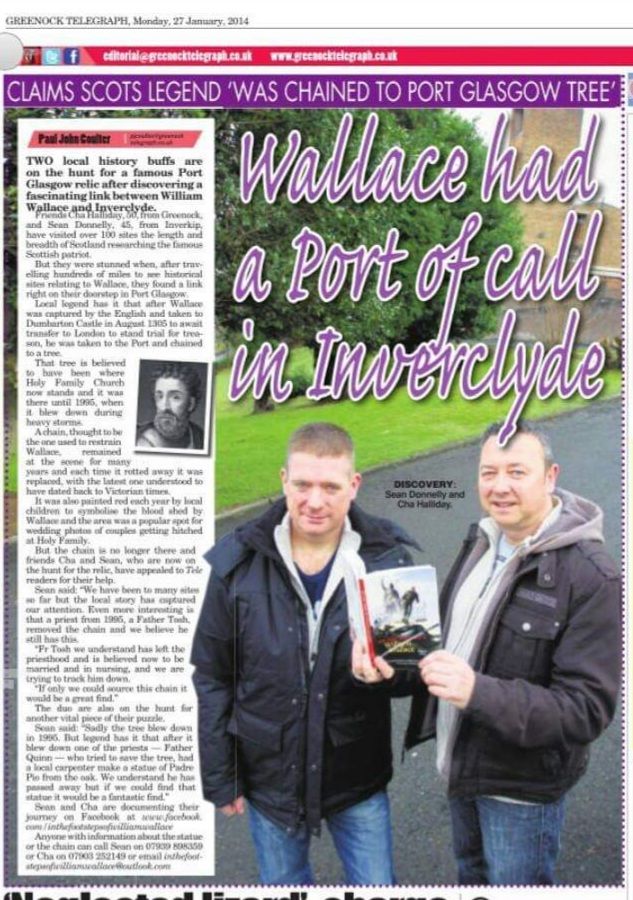 The Greenock Telegraph article.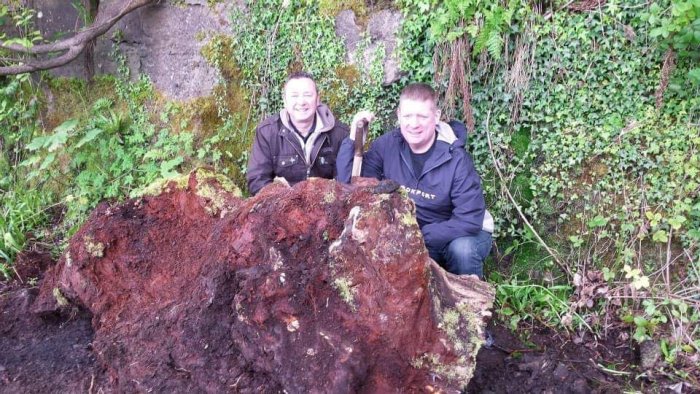 Wallace Oak remains are found in a scrap yard owned by David Smith of Bouverie Motors.

16. May 2014 : The then Society of William Wallace convenor, the late Duncan Fenton, meets with David Smith to view the two remaining sections of the tree held in David's disused scrapyard where he had placed them some 22 years previously. In a meeting covered by the Greenock Telegraph, Mr Smith donates the Wallace Oak to the SOWW.

17. 2014 : Wallace Oak Project team is set up within the SOWW, with Stuart Duncan, Margaret Halliday and Neil Lochiel joining Cha and Sean.

18. May 2015 : the Society of William Wallace contacts dendrochronologist Dr Coralie Mills, one of only three in Scotland and ten in the UK, to seek her expertise on our historical find.

19. March 2016 : Dr Mills visits the site to examine the Wallace Oak and take measurements and samples for detailed analysis. This is covered by both local and national newspapers.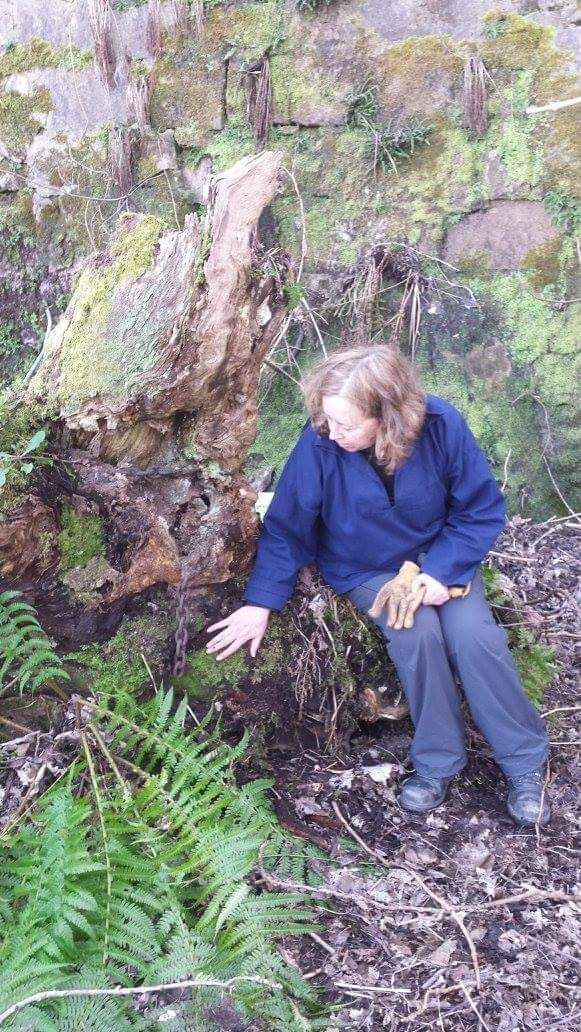 Dr Coralie Mills visiting the site before taking samples to be tested.

20. March 2016 : Sean is interviewed on BBC Radio Scotland about our historical find.

21. June 2016 : Dr Mills notes in her report, "The Wallace Oak, Port Glasgow : A Dendrochronological Investigation" : 'If oak trees can attain ages of over 500 years and not yet be hollow then in principle hollow trees can be even older. If we go back 500 years from 1768, when the tree was said to have been bored and pitch pored in, then we get to the mid 13th century, and the tree could have been a decent size at the time of William Wallace's capture in 1305.' Dr Mills is interviewed on BBC Radio Scotland, and once again this is covered by local and national newspapers.

22. February 2017 : The Wallace Oak is removed from the scrapyard at Bouverie Motors with the help of local company Union Projects and their sister company Wallace Civil Engineering from Elderslie (yes, you did just read that). It is taken to a storage unit kindly donated by The Trust. Once again this is covered by both local and national newspapers.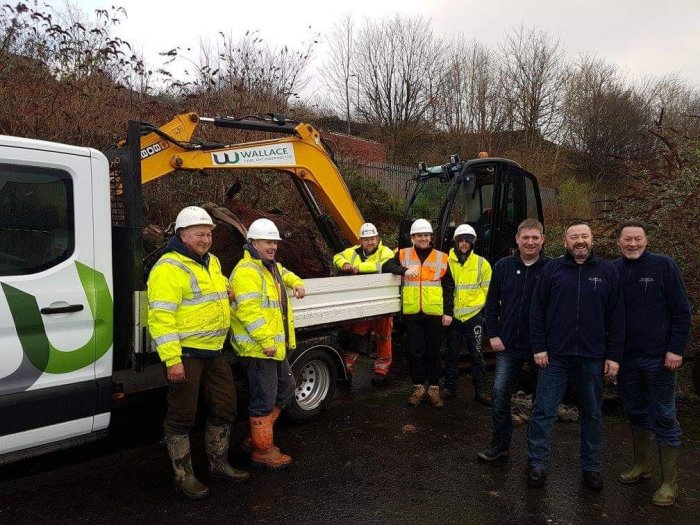 The Wallace Oak is removed by Wallace Civil Engineering to an industrial unit in Port Glasgow kindly donated by Newark Products.

23. February 2017 : a presentation made to David Smith at Bouverie Motors by the SOWW for his help with the Wallace Oak is covered by the Greenock Telegraph.

24. March 2017 : Historic Environment Scotland arrange an inspection of the tree remains from arboriculturalist Rob Thomson, a heritage consultant and conservator. He attaches an atmosphere sensor to take and send readings back to his laptop to monitor the drying out of the Oak.

25. March 2017 : A mural representing the history of Port Glasgow is unveiled at Port Glasgow railway station which includes a panel depicting William Wallace chained to an oak tree.

26. June 2017 : The Oak tree section with the embedded chain is donated to Historic Environment Scotland as a historical artefact for display (ideally at the nearby Newark Castle).

27. 2017-2018 : Various contacts and correspondence between the offices of Stuart McMillan MSP, Historic Environment Scotland and Wallace Oak Project Team on the preservation of the Wallace Oak remains.

28. January 2019 : estimates are obtained for building a monument to mark the spot where the Wallace Oak once stood in the grounds of Holy Family Church.

29. March 2019 : Architects Nicholson & McShane design our planned monument.

30. June 2019 planning application is submitted to Inverclyde Council.

31. June 2019 : Stuart McMillan MSP chairs a meeting at Scottish Parliament with Wallace Oak Project Team, Dr Coralie Mills and Historic Environment Scotland to conclude ongoing issues regarding Historic Environment Scotland and the tree remains. At this meeting Historic Environment Scotland declines the June 2017 donation of the historical artefact to HES for display.

32. November 2019 : planning application is accepted and fundraising begins for our monument.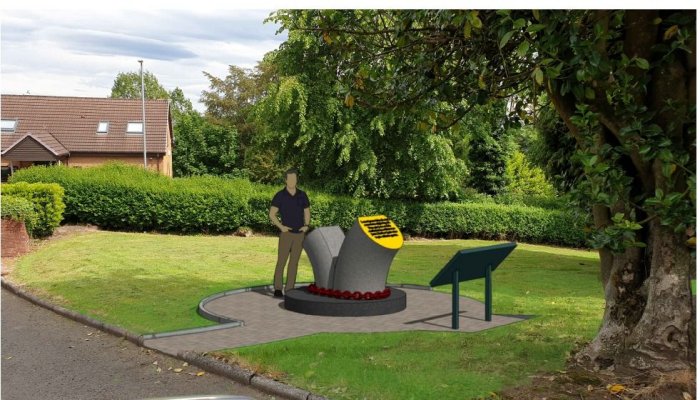 Planning permission granted, our design is approved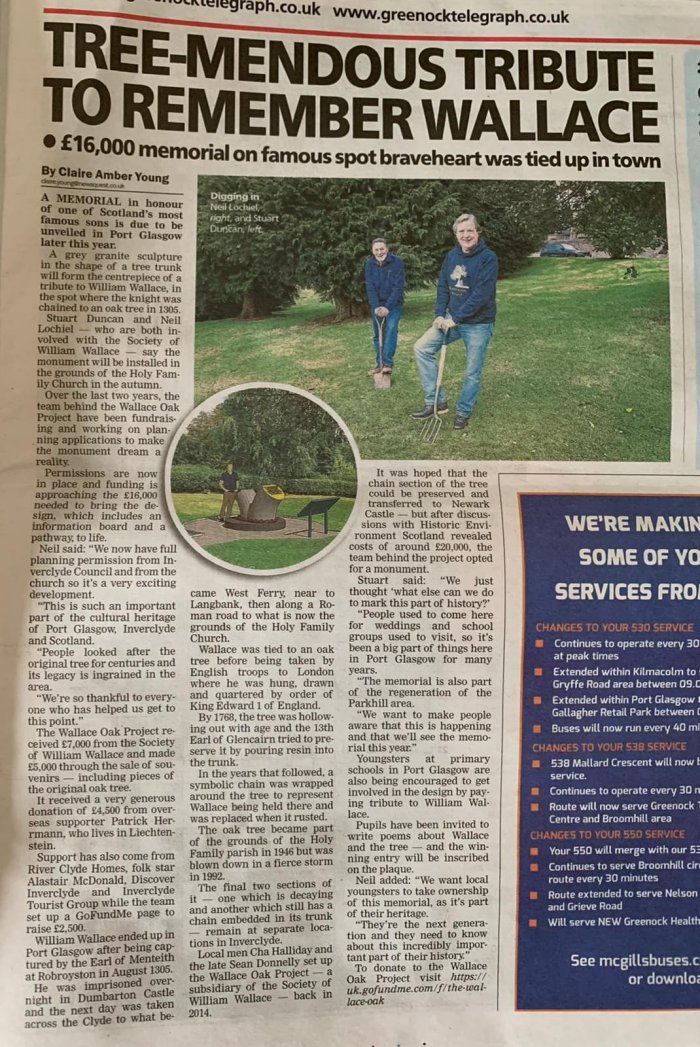 Greenock Telegraph article 13th May 2021

33. 23rd October 2021: the monument is finally unveiled to the public, 26 years after the tree fell and 716 years after Sir William Wallace had been chained there.

34. Today : As to the historical artefact with the embedded chain - that has been a huge concern since Historic Environment Scotland's eventual rejection. That story is yet to conclude……


THE WALLACE OAK PROJECT ROLL OF HONOUR
There are two main projects undertaken by the Wallace Oak Project Team of Cha Halliday, the late Sean Donnelly, Stuart Duncan and Neil Lochiel :
a) The conservation and public display of the last remaining section of the Wallace Oak Tree (currently in storage). This project is currently on hold due to withdrawal of support from Historic Environment Scotland; and
b) The memorial sculpture project, completed and unveiled on 23rd October 2021.
For support in the advancement of these projects, the following (in alphabetical order) are inducted into the Wallace Oak Project Roll of Honour :

Aileen Thomson
Alexis Tennant
Alistair Wilson
Andrew Hillhouse - Artist
Alastair McDonald (Folk Singer)
Brian Campbell
Brian McKenna
Brian Roy
Bonny Boyle
Bruce Martin
Carol Chalmers
Caroline Duncan
Charlie Sutherland
Chris Curley
Chris Jewell and Discover Inverclyde
Chris Nimmo
Clark Millar
Connie Eggers
Conor Woods
Coralie Mills, Dendrochronologist
Craig Burns
David Smith, Bouverie Motors
Debra Johnson
Duncan Spiers
Donald McRae
Edward Raupp
Elaine McLoughlin
Everyone who purchased our Wallace Oak souvenirs and merchandise
Fran Blyth
Frankie Caldwell
Freedom Tours Today (Stirling)
Gary Stewart
George Kempik
George Mair
Geraldine Harron
Gordon Aitken
Gordon Derby
Greenock Telegraph (Paul John Coulter, George Munro, Russell Steele, Claire Amber Young)
Heather Dowds
Helen Tennant
Hilary Murdoch
Holy Family Roman Catholic Church, Port Glasgow, the priests and the parish council
Hugh Cassidy
Hugh Ferns
Iain Rodger
Inverclyde Council
Inverclyde Powder Coating
Jacqui Munro
James Binnie
James McCleary
Jane Gubb-Wallace
Janice Donnelly
Jared Stafford
John Muir
Joseph Delaney
June Wallace
Lewis Macdonald
Lisa Jean Halliday
Liz Hughes
Lorraine Hunter
Mags Halliday
Martin Coyle
Michael Parker
Nicholson McShane Architects
Newark Primary School (pupils and staff)
Patricia Clint
Patrick Herman
Paul Graham
Picture Your Frame (Greenock)
Queensferry Renaissance Festival, Oklahoma
Rebecca Allison
River Clyde Homes
Riverside Inverclyde
Robert Halliday
Robert Inglis
Ronald H Sinclair
Rosaleen Shields
Ryan Deegan
Scott Halliday
Sherry Byrd
Steven Hughes, Freedom Tour Today
Stevie Webster
Stewart Gunn
St Francis' Primary School, Port Glasgow (pupils and staff)
St John's Primary School, Port Glasgow (pupils and staff)
St Michael's Primary School, Port Glasgow (pupils and staff)
Stuart McMillan MSP
Tami Robertson
The Society of William Wallace committee
The Trust (Port Glasgow)
Tom Kielty
Union Projects
Wallace Civil Engineering
William Wallace
Whiteside Memorials
Vicki Shields
Vicky Hillhouse
The Society of William Wallace is a Scottish Charitable Incorporated Organisation Registration number SC045959